Meet Dr. Ryoo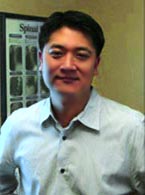 ​Dr. Youn C. Ryoo is a chiropractor in Phoenix, AZ. Dr. Youn C. Ryoo graduated and received a Doctorate of chiropractic form Logan College of Chiropractic in Chesterfield, Missouri in 2006. He has had his practice in Arizona since 2006. Dr. Ryoo received a Bachelor of Science Degree in Polymer Science and Engineering from Sung Kyun Kwan University in 1998 and a Bachelor of Science Degree in Life Science from Logan college of Chiropractic in 2004.
Dr. Ryoo is proficient with many chiropractic adjusting techniques including the Diversived, Activator, Logan Basic, Active Release Technique and Spinal Decompression. He is certified through the state of Arizona with a license to practice chiropractic and many therapy techniques designed to increase the quality of your life. Healing Touch Chiropractic & Rehab is a family practice that is very experienced in working with elders, adults, teens, children and sports medicine.e work regularly with auto accidents, workers compensation and personal injury.
Most insurance plans are accepted at our office. Please call us if you have any questions.
We'd love to see how we can help!